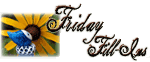 1. Tonight I saw
oooh, what

will

I see tonight?
2.
A good beat
makes me wanna dance!
3. Splitting a few appetizers between friends
is the start of a good night.
4.
Madame Snape
is someone I'd like to get to know better.
5. The smell of
lilac
reminds me so much of springtime!
6.
I bought a bottle of Stoli
and that made it all better.
7. And as for the weekend, tonight I'm looking forward to
the Saints winning
, tomorrow my plans include
just work
and Sunday, I
am going to see Nick Cave chatting about his music at the Arts Centre. Woohoo!

The place to be.