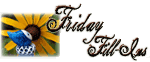 1. I love springtime in
anytime, anywhere
!
2.
Anything from the coffee group
are foods I love to eat for breakfast.
3. It seems I'm always searching for
money, meaning, happiness, the perfect photograph, keys
4.
A well-earned yawn
is a great way to end the day.
5. I think I
suck
!
6.
Conversation
is what I've been craving lately.
7. And as for the weekend, tonight I'm looking forward to
laundry :(
, tomorrow my plans include
desperately hoping the Saints can beat Geelong
and Sunday, I want to
maybe, perhaps, find time to go for a walk!
FFI