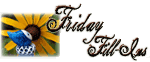 1. The last time I lost my temper I
probably scared someone!
2.
Poverty (ie, mine)
is what I'm fed up with!
3. The next book I'd like to read is
any of the millions on my TBR list
.
4.
Travelling the world
is what I'm looking forward to.
5. If you can't get rid of the skeleton[s] in your closet,
take them out for a walk!
6. The best thing I got in the mail recently was
hahahahahaha. The last time I got something good in the mail was a couple of Led Zep Cds from Janet!
7. And as for the weekend, tonight I'm looking forward to
A Saints win and Laura's 21st b'day bash
, tomorrow my plans include
working without, hopefully, too much of a hangover
and Sunday, I want to
not do a whole lot!
FFI