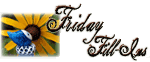 1. When I fell in love
I made the biggest mistake of my life!
2.
It'll be another six months before
when
the flowers bloom and it heats up outside!
3. Oh no! The internet connection is down,
DISASTER!!!!!
4.
Black Books
is the craziest tv show ever.
5. Cheese and
fresh bread
make a great meal!
6.
I'd like to be competent in
a garden.
7. And as for the weekend, tonight I'm looking forward to
losing the hangover, except I have to go keep Bronnie company at her son's 18th b'day party
, tomorrow my plans include
family dinner for my birthday
and Sunday, I want to
do nothing, but I'll have to work!
FFI