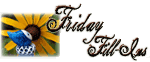 1. Two of my favorite ingredients in a drink are
alcohol and more alcohol!
2.
The stupidity of people
often amazes me.
3. You can keep doing that forever, the dog is
on guard.
4.
Vodka, Tia Maria, coke
mix it all together and voila! You have
a Black Russian!
5. If I had a yard with a garden, I would love to grow
herbs and veggies.
6.
Not me, that's for sure!
is best au naturel.
7. And as for the weekend, tonight I'm looking forward to
nothing in particular
, tomorrow my plans include
an underwear party
and Sunday, I want to
see the sun!
FFI