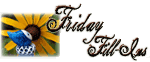 1. For me
censorship
is the opposite of creativity.
2.
The Time Traveler's Wife by Audrey Niffenegger
was the last excellent book I read.
3. I like fill-ins because
I dunno why, I just do
.
4. In nature I like looking at
all of it
.
5.
The best person for the job
should win the US elections.
6. The last time I laughed with all my belly was
yesterday when I saw Skelly's new hairdo
.
7. And as for the weekend, tonight I'm looking forward to
nothing special
, tomorrow my plans include
work as usual
and Sunday, I want to
be smiling. So come on Saints, get your act together!
FFI